O curso tem sido muito ocupado com os visitantes ao longo do último mês ou assim (qual, claro, é bom) Mas ainda temos conseguiu embalar em muita ação para os membros, incluindo um campo enorme de 72 golfistas para sexta-feira Fun Golf em mais de uma ocasião!
Natal & Eventos Ano Novo
Há muito acontecendo durante o período festivo para o manter entretido no curso, bem como fora dele. O evento único 'Copa do Mundo' acontece durante três dias a partir 28th para 30th Dezembro, quando as equipes que representam Inglaterra, Portugal e Resto do Mundo terá um no outro. Dia de Ano Novo vai ver o 'Hangover Concorrência anual e uma oportunidade para reparar os danos da noite anterior!
Arredondamento coisas fora é o Torneio de Caridade Portucale em janeiro de 2nd com os prémios patrocinados pela Portucale Condominium. The presentation, including the Howard Gibson Trophy, will be at the dinner in the Clubhouse in the evening. This is one of the biggest fundraisers of the year for the Captain's Charity, so please sign up and join in.
Also keep an eye out for the New Year's Eve party in the Clubhouse, of which you will shortly receive more details.
Annual Art Auction
We are fortunate in PDR to have so many talented artists amongst us. To celebrate this we hope once again to be holding a 'silent auction' of some of their work, with the proceeds going to the Captain's Charity.
The artworks will be displayed in the clubhouse, over the Christmas and New Year period and if you are able to donate a picture for this please contact isabel.paiva@praia-del-rey.com or myself.
First Captain Pro Charity Challenge
This was the first opportunity to get together with new Pro Luis Barroso and take on our challengers on this occasion, Bill Ahern and Hans Fjarem. A birdie fest from Luis, as I looked on admiringly, was enough for us to take the honours in a great contest. Many thanks to Bill & Hans for the challenge and their generous donation to the Captain's Charity. If you fancy taking us on, please email me – the address is at the bottom of this newsletter.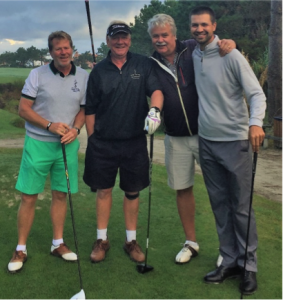 Pairs outubro
Windy conditions for the October Pairs competition, this time played using the more challenging Chapman format. However none of this held back Tina & Rob Walsh, triumphant on count back from David Haide & Steve Anderson, tanto em 41 pontos. Bill Trendell & David Martin were a point back in third place.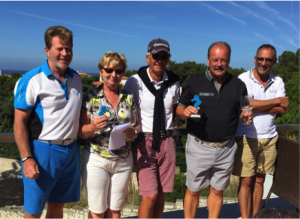 September Order of Merit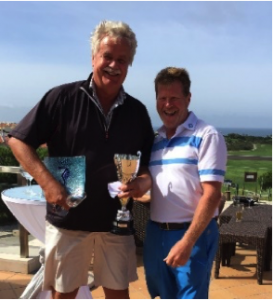 A beautiful day and really good scores for the September Order of Merit & Autumn Cup. For the second year in succession and impressively with the same score as last year, Hans Fjärem took the honours with an outstanding 41 pontos. Simon Worton won best gross with Padraig Croke taking Category 1 & Steve Cottrell Category 2, both with 40 pontos.
Atlantic Trophy – players wanted
With the three away matches now played and one precious away win in the bag, we now have three home matches to come and a great opportunity to do well in this annual competition. The Troia match has been rescheduled and the three dates are now:
Penha Longa –Sunday 20th Novembro (Início)
Troia – Thursday 1st Dezembro (Início)
Quinta Do Peru – Sunday 11th Dezembro (Início)
If possible, please make yourself available for the team by putting your name on the entry sheet in Golf Reception, or let Reception know by phone or email so they can add your name for you.
New Toilets on the way

!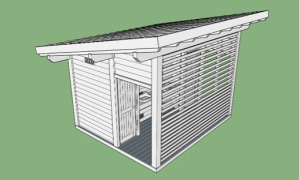 Members will be delighted to hear that the order for the new toilets has now been placed! With an expected lead time of some 6 weeks, they should be operational around the beginning of December. The new facilities, on the sites of the existing toilets, will include separate men's and ladies toilets and a central wash area.
Charity update
The fund this year has already exceeded 4,000 euros. Please click the link elsewhere in this newsletter to find out more about the Community Centre in Amoreira which we are supporting this year.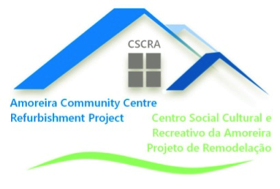 Forthcoming events
In addition to the regular Monday Team Golf, Wednesday Roll-Up and Friday Fun Golf, the key competition dates for the next three months are;
Saturday October 29th 5th Ordem de Mérito
Sunday November 13th – Pairs
Saturday November 26th – 6th Ordem de Mérito
Saturday December 10th – Pairs
Saturday December 17th – 7th Order of Merit and Winter Cup (Shotgun start & lunch)
Dezembro 28th 29th 30th – World Cup
Sunday January 1st – Hangover Competition
Monday January 2nd – Portucale Competition
sábado janeiro 14th – Pairs
sábado janeiro 28th – 8th Ordem de Mérito
E finalmente….
Se você tem alguma sugestão para futuros boletins ou quer contactar-me por qualquer motivo, por favor enviar e-mail me at pdrcaptain2016@gmail.com
Os melhores cumprimentos e golfe feliz.
John Smith Spon-