The course has been really busy with visitors over the last month or so (which, of course, is good) but we have still managed to pack in plenty of action for members including a massive field of 72 golfers for Friday Fun Golf on more than one occasion!
Christmas & New Year Events
There is plenty going on over the Festive period to keep you entertained on the course, as well as off it. The unique 'World Cup' event takes place over three days from 28th to 30th December, when teams representing England, Portugal and Rest of the World will take on each other. New Years Day will see the annual 'Hangover Competition' and an opportunity to repair the damage from the night before!
Rounding things off is the Portucale Charity Tournament on January 2nd with the prizes sponsored by the Portucale Condominium. The presentation, including the Howard Gibson Trophy, will be at the dinner in the Clubhouse in the evening. This is one of the biggest fundraisers of the year for the Captain's Charity, so please sign up and join in.
Also keep an eye out for the New Year's Eve party in the Clubhouse, of which you will shortly receive more details.
Annual Art Auction
We are fortunate in PDR to have so many talented artists amongst us. To celebrate this we hope once again to be holding a 'silent auction' of some of their work, with the proceeds going to the Captain's Charity.
The artworks will be displayed in the clubhouse, over the Christmas and New Year period and if you are able to donate a picture for this please contact isabel.paiva@praia-del-rey.com or myself.
First Captain Pro Charity Challenge
This was the first opportunity to get together with new Pro Luis Barroso and take on our challengers on this occasion, Bill Ahern and Hans Fjarem. A birdie fest from Luis, as I looked on admiringly, was enough for us to take the honours in a great contest. Many thanks to Bill & Hans for the challenge and their generous donation to the Captain's Charity. If you fancy taking us on, please email me – the address is at the bottom of this newsletter.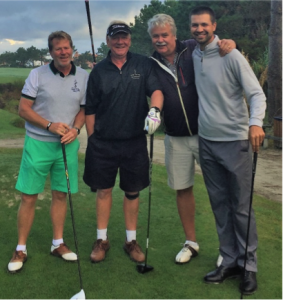 October Pairs
Windy conditions for the October Pairs competition, this time played using the more challenging Chapman format. However none of this held back Tina & Rob Walsh, triumphant on count back from David Haide & Steve Anderson, both on 41 points. Bill Trendell & David Martin were a point back in third place.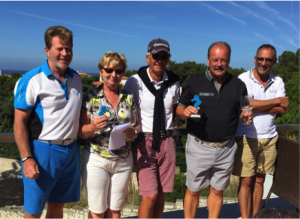 September Order of Merit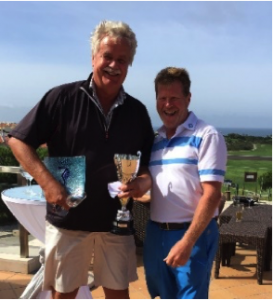 A beautiful day and really good scores for the September Order of Merit & Autumn Cup. For the second year in succession and impressively with the same score as last year, Hans Fjärem took the honours with an outstanding 41 points. Simon Worton won best gross with Padraig Croke taking Category 1 & Steve Cottrell Category 2, both with 40 points.
Atlantic Trophy – players wanted
With the three away matches now played and one precious away win in the bag, we now have three home matches to come and a great opportunity to do well in this annual competition. The Troia match has been rescheduled and the three dates are now:
Penha Longa –Sunday 20th November (Home)
Troia – Thursday 1st December (Home)
Quinta Do Peru – Sunday 11th December (Home)
If possible, please make yourself available for the team by putting your name on the entry sheet in Golf Reception, or let Reception know by phone or email so they can add your name for you.
New Toilets on the way!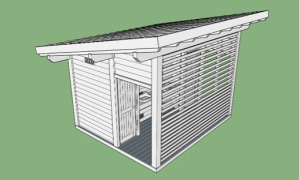 Members will be delighted to hear that the order for the new toilets has now been placed! With an expected lead time of some 6 weeks, they should be operational around the beginning of December. The new facilities, on the sites of the existing toilets, will include separate men's and ladies toilets and a central wash area.
Charity update
The fund this year has already exceeded 4,000 euros. Please click the link elsewhere in this newsletter to find out more about the Community Centre in Amoreira which we are supporting this year.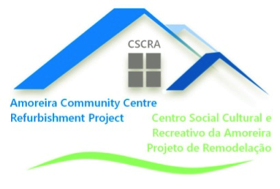 Forthcoming events
In addition to the regular Monday Team Golf, Wednesday Roll-Up and Friday Fun Golf, the key competition dates for the next three months are;
Saturday October 29th 5th Order of Merit
Sunday November 13th – Pairs
Saturday November 26th – 6th Order of Merit
Saturday December 10th – Pairs
Saturday December 17th – 7th Order of Merit and Winter Cup (Shotgun start & lunch)
December 28th 29th 30th – World Cup
Sunday January 1st – Hangover Competition
Monday January 2nd – Portucale Competition
Saturday January 14th – Pairs
Saturday January 28th – 8th Order of Merit
And finally….
If you have any suggestions for future newsletters or want to contact me for any reason please email me at pdrcaptain2016@gmail.com
Best wishes and happy golfing.
John Spon-Smith